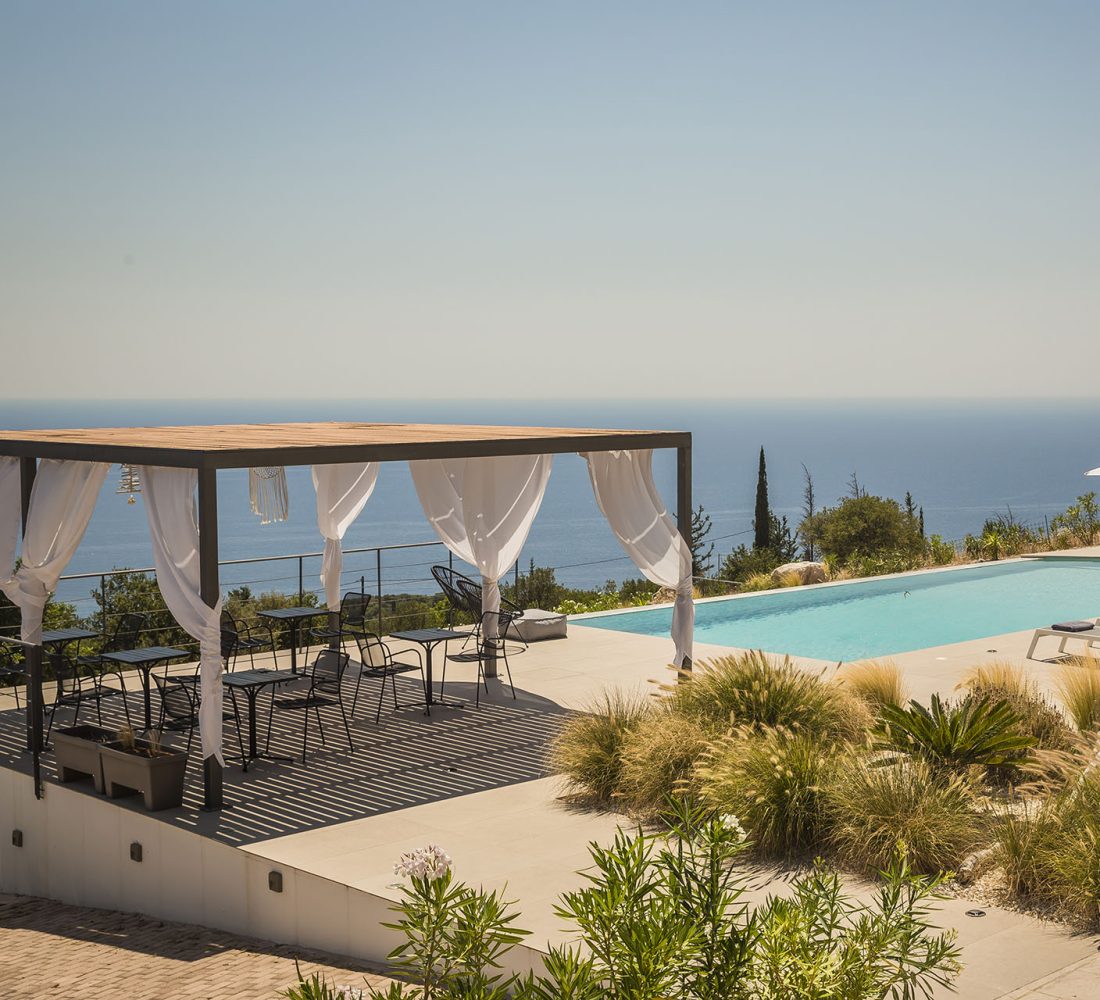 Luxury is the simplicity
οf losing track of time
Imagine a secluded oasis of peace and tranquility, where the azure blue sky seamlessly blends with the Ionian blue sea. At Kefalonia Escape Suites we will introduce you to our definition of luxury.
For us, luxury is the simplicity of losing track of time; the sound of uninterrupted silence apart from wild birdsong and bees gathering the local nectar. It is waking from a deep, restful sleep on your Sealy™ Mattress and then taking a few simple steps out onto you're your private balcony to enjoy a breakfast of delicious, locally sourced – wherever possible – produce that is delivered to your room at a time that suits you.
Luxury is relaxing by our sleek 15m infinity pool that seamlessly blends into the surroundings, while the sun caresses your skin and re-invigorates your soul and the sense of space ensures that you feel free and able to simply breathe and relax.
The minimal, contemporary architecture has been designed to maximize the spectacular, un-interrupted views from each suite and the pool area, drawing your gaze to the infinite blue hues beyond with the ancient island of Dias (Zeus) in the distance and the island of Zakynthos, without any compromising on the maximum level of comfort.
And, as the sun dips below the horizon, setting the sky alight in a blaze of glorious technicolour, we invite you to sit back and relax with a perfectly poured drink in hand and watch as the night sky becomes spectacularly illuminated by the stars and moon, signaling the end of another day of redefined luxury.
Find us
Kefalonian Escape suites are located in Valeriano and only 2km from the sandy & peaceful Koroni beach.
Near the suites (6km) there is Lourdas, a quite popular and well-organized beach.
Katelios and the famous Skala are also very close to enjoy.